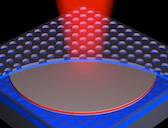 The idea is to replace the multiple layers needed to form traditional cavity end distributed Bragg reflectors with photonic crystal mirrors.
"One layer of photonic crystal is equal to about 15 to 30 layers of dielectric reflectors found in conventional lasers. As a result, manufacturers could fabricate 2µm-high lasers for data links with performance that could equal current designs," said the University of Wisconsin-Madison, which teamed up with the University of Texas at Arlington for the project.
According to UW-Madison, Bragg-based surface-emitting lasers could be 20 to 30µm tall and, on a 1.5µm wavelength optically connected chip, could dwarf their silicon surroundings.
"It sits tall on the chip, like a tower," said Professor Zhenqiang Ma of UW-Madison. "That is definitely not acceptable."
Composed of compound semiconductor quantum well materials, each photonic crystal mirror would be held in place with thin silicon membranes.
Professor Weidong Zhou of UT Arlington claims that integrating compound semiconductor quantum wells with silicon is a promising approach: "We apply a nanomembrane transfer printing process to accomplish this goal."
Zhou and Ma have founded Texas-based Semerane to production-ise on-chip photonic crystal membrane lasers for inter-block communications on processor chips.
Findings were published in July 22 Nature Photonics.