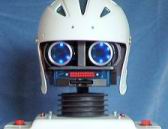 A handler sends commands using a concealed radio transmitter over a link using LPRS easy-Radio modules to make Cycler drive around, move its arms, move its head, and speak using an internal MP3 player allowing interactive dialogs to take place.
To keep the audience interested, when not under direct command the robot runs its in-built personality program – looking around, moving and flashing its eyes, and moving its head and arms. It is not allowed to drive about unless specifically ordered to do so by the handler.
Built by Foundation-Robotics, Cycler has five microcontrollers and seven electric, and is operated by the environment and education charity Waste Watch.
"My original designs were based on conventional wireless chip-sets and modules which promised ease of use," said Foundation-Robotics MD David Buckley.
"In practice I discovered I had to spend a lot of time adding many layers of error correction software to achieve any degree of reliable wireless connectivity. After I discovered easy-Radio's 433MHz transmitter and receiver modules, I found I didn't get any errors at all. I even turned off the error correction I had previously had to use and it just kept working."
Cycler robots visit three schools per day, and have been seen by an estimated 750,000 children.