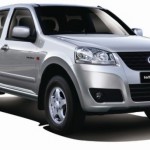 This work will include automotive-electronics technologies such as GDI (Gasoline Direct Injection) and BCM (Body Control Modules), automotive-class devices such as the PowerPC series 32-bit microcontrollers.
It will also include work on EMS (Engine Management System) and Safety (Passive and Active), complete platforms for Infotainment (Audio, Video, Connectivity and Navigation), reference designs, development tools, technical support and trainings for many different automotive applications.
"The automotive electronics market is seeing rapid growth," said Huang Yong, senior v-p and chief director of technical center, Great Wall Motor.
"Confronted with unprecedented competitive pressure, local automotive companies must implement strategic transformation and develop their own core technologies to compete with joint-venture brands," said Yong.
"The establishment of a joint laboratory with ST will play a very important role in helping GWM to enhance our core competences in automotive electronics," said Yong.
According to Marco Monti, general manager of automotive product group, STMicroelectronics: "The cooperation of Great Wall and ST is well positioned to address and anticipate the requirements and new directions in automotive electronics applications."