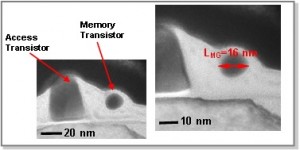 Split-gate flash memories are made of two transistors: an access transistor and a memory transistor with a charge-trapping layer (nitride, Si nanocrystals).
The design uses a low-access voltage and minimises drain current during programming compared to standard one-transistor NOR memories.
"Because programming energy decreases when memory gate length decreases, ultra-scaling is particularly relevant for contactless applications," said CEA-Leti, the French government-funded reasearch centre.
According to CEA-Leti, the memory gate has been reduced down to 16nm thanks to a poly-Si spacer formed on the sidewall of the select transistor. This approach avoids costly lithography steps during fabrication and solves misalignment issues, which are responsible for a strong variation of the electrical performances, such as the memory window.
The main challenges of this self-aligned technology concern the precise control of the spacer memory gate shape and of the memory gate length.
"Spacer gate has to fulfil two difficult requirements: being as flat as possible in order to get a silicidation surface as large as possible while insuring a functional contact, and getting a steep edge in order to control the drain-junction doping," said the research team.