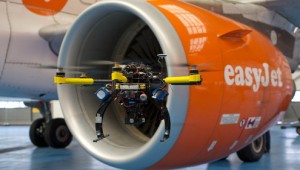 Equipped with high-resolution cameras, drones will be programmed to scan and assess the planes, reporting back to engineers on any damage which may require further inspection or maintenance work.
"Checks that would usually take more than a day could be performed in a couple of hours and potentially with greater accuracy," said Easyjet head of engineering Ian Davies.
It is working with Coptercraft, Measurement Solutions, and Bristol Robotics Laboratory – the last of which is a University of Bristol – University of West England partnership.
"Aircraft inspection is a great application for drones. Coupled with smart navigation and computer vision, they can get accurate data from really awkward places," said Dr Arthur Richards, head of aerial robotics at the Bristol Robotics Lab.
Trials are planned in the coming months, followed by introduction as early as next year, according to Easyjet, which has a fleet of 220 Airbus A319 and A320 aircraft.
Alongside the drones, the aircraft operator is working with Epson and Vuzix to establish live 3D virtual reality (VR) links between engineers at its Luton operations control centre (OOC) and pilots or engineers on the ground at a remote airport – in currently flies to 138 airports.
It will use high-definition see-through VR glasses and both VR and augmented reality, with the aim of replacing the current scheme where issues are resolved over the phone using emailed pictures.
Similar video technology, this time from Vidcie and XO Eye, is being tried for live streaming between the engineer on the ramp and the OCC, which will also send live information and technical assistance to engineers and pilots through augmented reality glasses.
Lastly, to speed the resolution of day-to-day engineering issues, easyJet's engineering department is working on bespoke apps with Output42.
"For example, one app helps engineers identify and replace damaged fan blades after a bird strike more quickly by scanning fan blades and automatically ordering a suitable replacement blade. The apps are in different stages of development and we expect to be trialling a range of them over the course of the summer," said Easyjet.