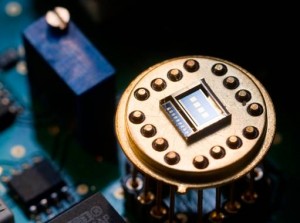 Developments included techniques and models to deliver the maximum power output for piezoelectric and other electro-mechanical energy harvesters, techniques for measuring micro-scale energy coupling for MEMS harvesters, and the first reference materials for measuring induced voltage inside high-temperature (up to 860K) thermometric materials for extreme environments  – inside car engines, for example.
Photo: Measuring harmonic distortion on a MEMS harvester at Laboratoire national de métrologie et d'essais
"In many industries including construction, transport, automotive and mobile communication energy harvesting is already making significant inroads, offering ways to improve the efficiency of energy usage or to power wireless sensor networks for autonomous, battery-less monitoring," said the UK National Physical Laboratory (NPL). "However, to realise the full potential of the technology developers require agreement on measurement standards in order to provide certainty to the market on the power they can deliver and, prevent uncertainty in performance claims harming confidence in the technology."
The other labs involved are: Physikalisch-Technische Bundesanstalt, Laboratoire national de métrologie et d'essais, National Metrology Institute of Finland, Istituto Nazionale di Ricerca Metrologica, Slovenski institut za kakovost in meroslovje and the Czech Metrology Institute.
Tools and models were also developed to measure electrical and thermal properties of nanomaterial harvesters and their coupling down to the nanoscale, and a test-rig is now available to measure the performance of magnetostrictive devices – that exhibit changes in structure as a result of changes in their magnetic environment.
Started in 2009, results of the Metrology for Energy Harvesting Project, are being presented at Physikalisch-Technische Bundesanstalt in Braunschweig, Germany.
"The work we present today will enable industry and consumers to reliably assess different energy harvesting technologies such as thermoelectric and vibrational harvesting devices. These developments will increase market confidence, helping to secure wider industrial investment. More accurate and standardised measurement will allow industry to lower costs and increased energy efficiency to make a stronger business case for applications in new sectors," said Dr Paul Weaver of NPL.
A new stream of work is planned to take progress so far closer to industry: "developing standards that will facilitate communication as well as bringing in new materials and technologies that are likely to impact on this area in coming years such as nano-structured materials and MEMS technologies," said NPL.
Metrology for Energy Harvesting Project is part of the European Metrology Research Programme (EMRP) which is jointly supported by the European Commission and the participating countries within the European Association of National Metrology Institutes (EURAMET).