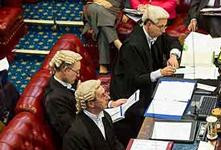 "This inquiry constitutes a very brief spot check of scientific research priorities and related issues ahead of the publication in the autumn of the Government's science and innovation strategy," said the Lords. "With research areas as diverse as energy, the digital economy, robotics, space exploration, food security and regenerative medicine, to name a few, the Committee will look at the issue of where public funds should be directed, and why."
It will also explore the changes that need to take place to improve the UK's international standing in science and innovation.
Witnesses attending the first of three evidence sessions are:
Dr Sarah Main (Director, Campaign for Science and Engineering).
Professor Graeme Reid (professor of science and research policy, University College London).
Kevin Baughan (director of technology and innovation, Technology Strategy Board).
Questions will include:
What are the main priorities for scientific research?
What are the challenges in setting out priorities?
Should we prioritise according to direct benefit to society?
Should we prioritise according to economic benefits to UK plc?
Should we aim for excellence in a few areas, rather than competence across them all?
Who should decide where we as a country should focus our research – the researchers or the funders?
Where does the research strategy leave the overall science budget?
The session is at 10.40, is open to the public, and will be live on the internet.
Further hearings are planned for 8 and 22 July.
The Lords Science and Technology Committee, chaired by Lord Selborne, has a broad remit: 'To consider science and technology'. It scrutinises Government policy through cross-departmental inquiries into a range of activities.