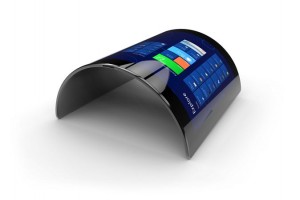 SmartKem's inks are used in printed thin film transistors (TFTs), which are used as the driver transistors in flexible OLED (Organic Light Emitting Diodes) displays.
The two companies will work together in the chemistry research for flexible displays and circuits.
"The future belongs to flexible displays. Our investment in SmartKem and our extensive Joint Development Program will take us a great step forward in bringing this future-oriented technology faster to the market," said Dirk Nachtigal, managing director, BASF Venture Capital.
Steve Kelly, CEO of SmartKem told Electronics Weekly earlier this year:
Printed electronics, after many years of being touted as the next big thing, has without doubt turned a corner on path to full scale commercialisation.

We have been focused on market- driven applications where serious market traction existed, the most significant of which is printed, flexible drive electronics for flexible display manufacture. With the initial launch of LG's and Samsung's curved mobile phones in late 2013, it is expected that this is a precursor to a range of new-form factor products for mobile devices such as smartphones and tablets.

For suppliers in the printed electronics industry, this is the most significant sector for growth in 2014 and beyond. This not only applies to material suppliers, such as SmartKem, but also to production and test equipment manufacturers as well as a range of IP license opportunities as the UK's academic and research institutes are widely recognised in Asia as world beaters in scientific and technical creativity.
Thin film transistors can be used to drive displays by switching pixels on and off. Traditional TFT displays use silicon or metal oxide transistors are processed on glass at high temperatures. Organic thin film transistors can be processed on plastic films at lower temperatures.
The total investment of the financing round was €3m. Further investors with equal terms were Octopus Investments and Entrepreneurs Fund.