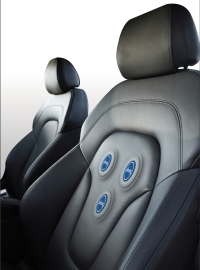 Plessey has previously demonstrated electrocardiogram (ECG) measurements using its EPIC electrostatic sensing chip, and this work is being extended by the University's Advanced Textile Research Group.
"Plessey has already demonstrated that cardiac signals can be measured unobtrusively using capacitive sensors mounted within the driver's seat; the requirement now is to improve the consistency and reliability of the data so that it can be used for the intended purpose," said Professor Dias. "This requires a novel approach to the design of the electrodes, and Nottingham Trent University's knitted conductive textile technology offers the potential to produce robust electrodes that can be easily incorporated into automotive seats."
The Technology Strategy Board has chipped in £88,318 funding – part of £1.1m spread across 11 projects towards the development of internet sensors which allow machines and appliances to co-ordinate across networks.
"If successful, the aim is to develop the seats initially targeted at lorry drivers but also at the luxury car market," said the University.