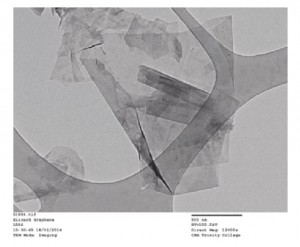 The result of Irish-UK research, the flakes could find use in photovoltaics, batteries, as an electrode material in displays, and as a vapour barrier.
"The exfoliated flakes [are] un-oxidised and free of basal-plane defects. Graphene produced by this method performs well in applications from composites to conductive coatings," said the researchers in a Nature abstract, claiming the technique is scalable to hundreds of litres and beyond.
According to a Nature blog, the method involves mixing water (500ml), detergent (10-25m), and graphite powder (20-50g) – the exact proportions have yet to be revealed. These are 'blended' for 10-30min, which imposes shear rates above 104/s and produces micrometre-sized flakes – which are then separated from other debris by further processing.
Jonathan Coleman of Trinity College Dublin lead the research, which was funded with £625,000 by UK-based firm Thomas Swan.
These flakes average four or five layers thick, and so are not suited to making fast transistors – where area growth rather than flake deposition is the likely route to production.
However, mass production, low defects and good surfaces make them more attractive than many other graphite derivatives that producers claim to be graphene.
The method can also be applied to other layered crystals – BN and MoS2, for example.