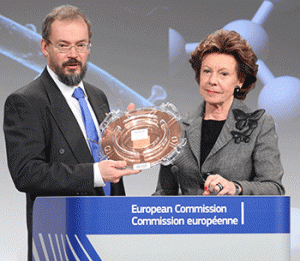 One of the largest-ever European research initiatives will expand further as result of a €9m competitive call.
New industrial and academic partners will be invited to join the of Graphene Flagship consortium, which already has 76 partners from 17 countries.
The expansion of the project will be made next week at the start of Graphene Week 2014 in Gothenburg, Sweden.
Graphene research is very active in Europe and researchers, which includes teams at Manchester and Cambridge in the UK, are working to take graphene and related ultra-thin layered materials from academic laboratories to commercial products.
The researchers believe the new semiconductor material technology can potentially "revolutionise multiple industries and create economic growth and new jobs in Europe".
The €1bn Graphene Flagship collaborative research project was launched by EC vice-president Neelie Kroes to put Europe at the centre of grapheme research.  Swedish Chalmers University of Technology is hosting the graphene conference (23-27 June).
Taking part next week will be Prof. Jari Kinaret, Director of the Graphene Flagship, and Prof. Andrea Ferrari, Director of the Cambridge Graphene Centre and the Chairman of the Graphene Flagship Executive Board.
Next week's event in Gothenburg is aimed at creating a direct dialogue between academia and industry, to foster new opportunities and encourage new common projects.
Related news:
Graphene mixer opens door to THz imaging