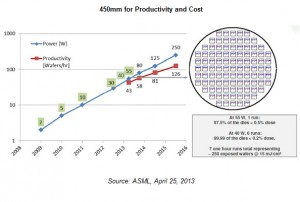 According to SEMI, Jim Koonmen, senior VP at ASML, says that  "450mm looks like a "doable" cost reduction scenario, but that 450mm provides limited cost benefit for scanning systems and that significant enhancements in overlay are required next to wafer size increase to accommodate the roadmap."
ASML has initiated 450mm development programs on two platforms and four wavelengths. Koonmen sees early version tools in 2015/16, with volume systems available in 2018.
On EUV, Koonmen says source power is currently up to 55W capable of producing 43 wafers per hour. In 2013/4 he expects source power to be up to 80W capable of supporting 58wph; in 2014/5, 125W source power will deliver 81wph and in 2015/6, 250W source power will deliver 126wph.
At Intel, which has invested $4bn in ASML's 450mm and EUV development programmes, Steve Johnston, says that EUV is behind schedule. "Source power is gating and well behind schedule and reticle defectivity is a significant concern."
"For us, 10nm is 2015," says Johnston, adding: "I'm not saying that's when we are going to introduce 450mm."