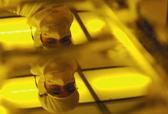 The French FD-SOI semiconductor technology supplier was speaking following the announcement of an FD-SOI fab deal between Samsung and STMicroelectronics.
It said the supply chain for the technology is in place.
"It also represents a tipping point for FD-SOI industry deployment," said Soitec.
Samsung is licensing the 28nm FD-SOI design platform from STMicroelectronics, opening the way for full production of ICs.
"With our two fabs and our licensing strategy, the supply chain is in place and we are very excited by this opportunity to provide the semiconductor industry with our smart substrates in high volume to enable widespread deployment of FD-SOI technology," said Paul Boudre, chief operating officer, Soitec.
Soitec has collaborated with industry partners to bring its FD-SOI product line to maturity. This has included R&D with CEA-Leti, the French research organisation, for process evolution and characterization, joint development work with IBM Microelectronics for device validation and collaboration with STMicroelectronics to produce and demonstrate the first products.
"The new agreement between STMicroelectronics and Samsung is a key milestone in the adoption of FD-SOI, and will expand the commercial offerings that designers can rely upon. Leti continues its development of further
generations and our technology and design results show great promise for the 14 nm and 10 nm nodes," said Laurent Malier, CEO of CEA-Leti (Laboratory for Electronics and Information Technology).
FD-SOI technology incorporates a thin layer of top silicon over a thin buried oxide, with extremely tight control of top silicon uniformity, to within just a few atoms. These layers will be used as active layers in the final transistor.
STMicroelectronics, Leti and Soitec have identified a path to the next nodes. The partners are already demonstrating results using the second generation of FD wafers to enable the commercialisation of next-generation FD-SOI technology.