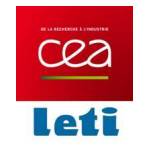 Qualcomm Technologies has signed a technology agreement with CEA-Leti to assess the implementation of the French research centre's sequential 3D technology.
In recent years, Leti has been actively working on a new 3D integration technology process called sequential 3D integration that enables the stacking of active layers of transistors in the third dimension.
This is not through silicon via (TSV) technology which is being used by Samsung, ST and TSMC.
Leti's sequential 3D technology is anticipated to process all the functions in a single semiconductor manufacturing flow.
This allows connecting active areas at the transistor level, at a very high density as it uses a standard lithography process to align them.
According to Leti researchers, this new technology is expected to allow a 50% gain in area and a 30% gain in speed compared to the same generation of technology made ​​in classical 2D.
"The sequential 3D technology is expected to be much less complex and expensive to implement, making this technology a potential alternative to conventional planar scaling solutions," said Leti.
The arrangement between Leti and Qualcomm Technologies will allow the critical assessment of this technology in the context of practical applications.