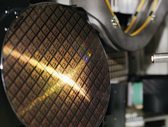 TSMC, working with ASML and MAPPER, have developed a prototype multi-e-beam tool for semiconductor lithography, according to Dr Jack Sun, CTO of TSMC, speaking to the International Electronics Forum 2010 in Dresden this morning.
"We have a tool with 110 beams which is to be upgraded later to 13,000 beams, working all at once", Sun told the Forum. The pre-alpha tool was installed at TSMC in July last year.
13,000 beams working simultaneously will be able to pattern ten wafers per hour, said Sun. Clusters of these tools will be able to work together to achieve 100 wafers an hour for production use, he added. The tool will be capable of use for the 20nm and 14nm generations.
TSMC has also taken delivery of a pre-production EUV tool which it will use for R&D. The company is looking at 2013-14 for production on EUV.
Nearer to today's technology, Sun said that TSMC's 28nm polysilicon process is approaching mature yields on a 64Mbit SRAM, and its 28nm high K metal gate process is achieving double digit yields on 64Mbit SRAMs.
TSMC's 20nm process is on target to achieve 2X the density of the 28nm process, said Sun, adding that an EDA tool for 20nm will be ready by mid-2010. The 20nm design rules will be compatible with both EUV and multi-e-beam lithography systems, said Sun.
On 40nm, Sun admitted to "glitches" – thought to refer to yield problems on GPUs – though Altera has always said it had no problem with TSMC's 40nm process.
Sun said he believed that a move to 450mm wafers is important for cost reduction.
"I believe it's going to happen", said Sun, "the device manufacturers and governments all have to pitch in and contribute to the effort. People will find a way to invest so that we can deliver 450mm."
Laurent Bosson, who ran ST's global manufacturing operation, reckoned that the 450mm manufacturing equipment would be made by the Chinese
Asked when he expected to see 450mm equipment in use, Sun replied that, before the credit crunch, the target was 2012. "It's moved out a couple of years," said Sun, "we have to pick up the momentum together. It's pushed out to the middle of this decade."