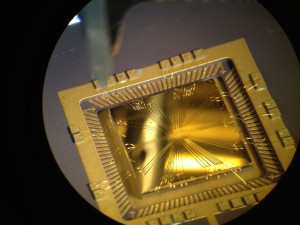 'Microwave ion-trap chip for quantum computation', by Diana Prado Lopes Aude Craik and Norbert Linke of the University of Oxford, shows the chip's gold wire-bonds connected to electrodes whose electric fields trap single ions 100µmicrons above their surface for quantum computing.
"These ions are used as quantum bits which store and process information in a quantum computer. Slotted electrodes on the chip deliver microwave radiation to the ions, allowing us to manipulate the stored quantum information by exciting transitions between the '0' and '1' energy states," said Craik, who added that the Oxford team recently achieved the 'world's highest-performing qubits and quantum logic operations'.
The competition's five categories were: Eureka, Equipment, People, Innovation, and Weird and Wonderful.
The ion trap was also first in the Eureka category.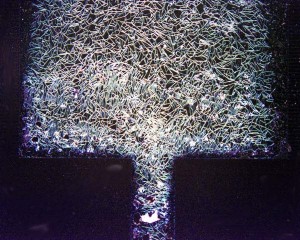 A dark field optical microscopy picture of a 40nm thick electrodeposited titanium oxide layer by Katarzyna Sokol of the University of Cambridge was second in the Equipment category.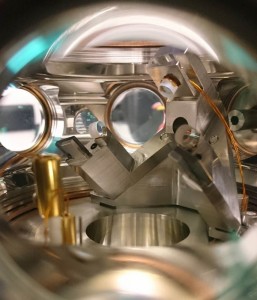 A 'high-finesse' optical ring cavity used to investigate light-matter interaction using cold atoms by the University of Birmingham's Andreas Lampis was 3rd in Equipment.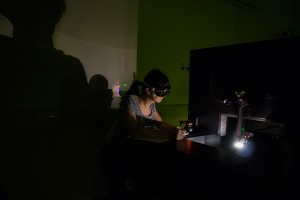 1st in the Innovation category was a piece of glass is being processed with a high power ultra-fast laser, which causes a luminous plasma to form. Light from the plasma emerges from the glass block to cast shadows around the room – taken by Jonathon Parkins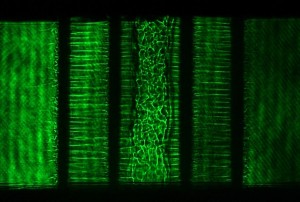 A laser image of a plasma column at a million °C was 3rd in Innovation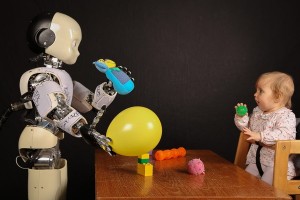 In the People category, Dr Patricia Shaw of Aberystwyth University was 1st with 'iCub and the Tutor', capturing a humanoid robot learning about play from a baby.
1st, 2nd and 3rd in all the categories can be seen on the EPSRC website (scroll down).