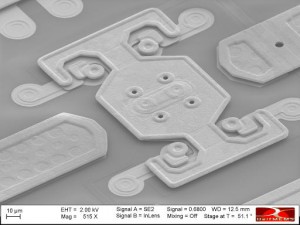 The switch is an anchorless and push-pull mechanical device that is deflected by electrostatic forces. "It solves past issues and substantially improves insertion loss, linearity, integration, hot switching behaviour, switching time and power consumption to simplify RF architectures," it claims – particularly in phones dealing with multiple wireless standards.
Its switches are designed to operate at RF frequencies up to millimetre wave frequencies (0.1 to 40GHz).
Last month, DelfMEMS raised €5.4m in series C funding.