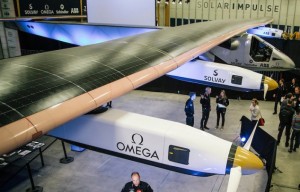 It has 17,248 thinned (135µm) monocrystalline silicon solar cells (269.5m2 total). Claimed efficiency is 23%. The encapsulated solar cells form the upper skin of the 72m span wing, which is bent over 140 carbon-fibre ribs to keep its shape.
There are four 13.5kW (17.4bhp) brushless, sensorless motors, each with reduction gearing to drive a 4m diameter two-bladed propeller at 525rpm. Maximum power is 54kW, and average expected power over 24hr is under 12kW.
An average of 250W/m2 solar irradiation is expected over each 24 hours . Energy levelling comes from a 260Wh/kg lithium polymer battery weighing 633kg (just over a quarter of the aircraft's all-up weight) – which works out at over 100kWh.
Charging electronics control thresholds and temperature. From end to end "the entire system is 94% efficient, setting a record for energy efficiency," said the development team.
Li-po cells are thermally insulated against the expected -40 to +40°C temperature range with high-density foam, and mounted in the four engine nacelles.
The pilot's 3.8m3 cockpit is also insulated with high-density foam.
Within this volume is also a week's food and water, a parachute, a life raft, and six bottles of oxygen. The two potential pilots have been trained in meditation and self-hypnosis to help with flying for four to six days in such a small space.
In order to save energy, the aircraft climbs to 8,500m during the day and descents to 1,500m at night.
Speed capability is 36-90km/h (20-49knots) at sea level and 57-140km/h (31.5-77knots) at 8,200m maximum altitude (the cockpit is not pressurised).
The structure is carbon fibre, with some of the material weighing in at 25g/m2 (a third the density of paper). All-up empty weight is 2,300kg, said to be 10x better weight density than the best gliders.
Solar Impulse 2 (to be registered as HB-SIB) has to be flown flat – within 5° of horizontal. A custom monitoring system sounds an alarm if this, and other parameters, are exceeded. Telemetry is satellite-linked back to mission control.
The plane was designed using experienced gained from a smaller (63.4m) prototype called HB-SIA.
"Lessons learned from this prototype are incorporated in the second airplane. Its more spacious cockpit will enable the pilot to fully-recline during flights, it will have an increased payload, its electrical circuitry will be isolated to enable flights in rain, and system redundancy will improve reliability," said the team.
Whereas the prototype uses existing technologies, new materials and construction methods were developed for HB-SIB: Solvay invented electrolytes that increased battery energy density, Bayer MaterialScience allowed access to its nanotechnologies, and Décision used carbon fibres lighter than any previously seen, for example.
HB-SIB was supposed to fly around the world this year, but its wing spar broke during static testing, causing a re-design and a delay to somewhere within April-June 2015. Flight testing should start this spring.