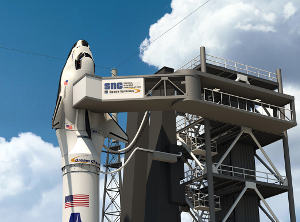 The Dream Chaser will launch attached to an Atlas V rocket as shown in this artist's impression. In previous flight tests, the craft was "flown" suspended from a helicopter. Its first free flight ended badly when it crash-landed after successfully gliding on autopilot from an altitude of 3.8 kilometres.
The Dream Chaser is one of three spacecraft vying to replace NASA's retired space shuttle and restore the US's ability to send astronauts into orbit. Currently, astronauts must hitch a ride to the International Space Station in Russian Soyuz capsules. Other contenders being developed with NASA's support are Boeing's CST-100 and SpaceX's Dragon.
Although the Dream Chaser is small – about 9 metres long, compared with 37 metres for the space shuttle – it can nevertheless carry up to seven astronauts and their equipment.
The uncrewed flight in 2016 will launch from Cape Canaveral, Florida, and spend about a day in orbit. Sierra Nevada is planning a crewed mission for 2017.
Syndicated content: Aviva Rutkin, New Scientist
Image: Artist's impression – Sierra Nevada Corp