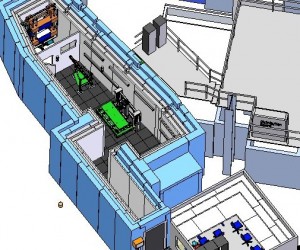 Called ChipIR, is now part of the Science and Technology Facilities Council (STFC) ISIS neutron source at Harwell in Oxfordshire, and will mimic cosmic ray neutrons which can cause soft errors in, and hard damage to, semiconductors.
"In building ChipIR at ISIS we have created a test facility that will allow the electronics industry to rapidly assess the vulnerabilities of their devices," said ChipIR project scientist Dr Chris Frost.
The facility is flexible – able to trace a beam of neutrons over a chip, or flood a rack of electronics.
"In a single hour, ISIS will be able to replicate the effects of exposing microchips to high-energy neutrons over 100 years of flying time," said STFC.
Funding for ChipIR was announced in 2011. It has completed its first development testing, and should operating fully in 2015.
"The electronics industry, ranging from aviation and automotive to communication and the internet, will use ChipIR to pinpoint problems and to find the most cost effective and robust solutions to keep making electronic systems that are reliable as they become more complex, smaller and faster," said Frost.