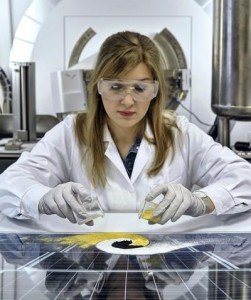 The 'mechano-chemical' process uses a ball mill – technology that would have been familiar with production engineers a century ago.
Perovskite is a crystalline structure of three elements, and by substituting these for other elements, the properties of perovskites can be varied. They have found use in: photovoltaics, catalysis, superconducting electromagnets, high voltage transformers, magnetic refrigerators, magnetic sensors and computer memories, said the team – from the Institute of Physical Chemistry of the Polish Academy of Sciences (IPC PAS), and the Faculty of Chemistry of Warsaw University of Technology.
One way to make them is in solution at a high temperature, which takes a long time said IPC PAS, and now they can be made quickly by solid-state synthesis.
"With the aid of mechano-chemistry we are able to synthesise a variety of hybrid inorganic-organic functional materials with a potentially great significance for the energy sector. Our youngest offspring are high quality perovskites. ," said IPC PAS' Professor Janusz Lewinski.
Two powders are poured into the ball mill: white coloured methylammonium iodide (CH3NH3I) and yellow coloured lead iodide (PbI2). "After several minutes of milling, no trace is left of the substrates. Inside the mill there is only a homogeneous black powder: the perovskite CH3NH3PbI3," said IPC PAS researcher Anna Maria Cieslak. Even x-ray diffraction could not detect the starting reagents.
The material is stable up to 300C, has a direct band-gap of 1.48 eV and 70% of charges within it recombine in 61ns.
The mechanochemically manufactured perovskites have been tested by renown solar cell specialist Professor Michael Graetzel of the Ecole Polytechnique de Lausanne in Switzerland – father of the Graetzel solar cell. "The performance of the cell containing the perovskite with a mechano-chemical pedigree proved to be more than 10% greater than a cell's performance with the same construction, but containing an analogous perovskite obtained by the traditional method involving solvents," said IPC PAS.
Made by a one step deposition method, the cell achieved 9.1% power conversion.
Amongst other mechano-chemically created materials the group has made, are inorganic-organic micro-porous metal-organic frameworks – materials with space inside to store, for example, hydrogen.
The perovskite research will be developed within GOTSolar collaborative project funded by the European Commission under the Horizon 2020 Future and Emerging Technologies action.
It is described in "Mechanosynthesis of the hybrid perovskite CH3NH3PbI3: characterization and the corresponding solar cell efficiency' in the Journal of Materials Chemistry A.