Thin Film makes printable organic smart label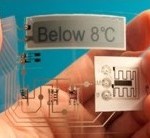 Thin Film Electronics from Oslo says it has demonstrated its first fully functional, stand-alone smart sensor label.
The printable electronics firm says the temperature-tracking label can be used for monitoring of perishable goods, and it estimates the temperature monitoring market could be worth over $3.2bn by 2020.
Pharmaceutical companies will monitor temperature-sensitive drugs and retailers will using temperature-monitoring devices during shipment of perishable food products.
The company, which first demonstrated memory write based on detection of temperature thresholds last year, says it has demonstrated a stand-alone, integrated printed electronic system powered solely by batteries.
According to Christer Karlsson, Thinfilm CTO, "A key breakthrough for this demo was the low-voltage complementary logic we announced in June of this year. Polyera and our other materials partners have played an essential role in helping us move products forward."
The device's logic circuit detects that a critical temperature threshold has been exceeded and signals the display driver to turn on a segmented display.
The company, Thin Film Electronics ASA, came to prominence when it commercialised printed rewritable memory. It is now creating other printable electronic circuits using complementary organic transistor logic.
Thinfilm says it has demonstrated all components necessary to produce its first system products by end of 2014.