Direct brain to brain communication over the Internet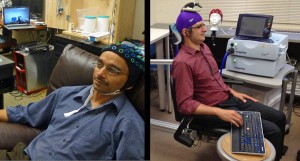 University of Washington researchers have established a non-invasive brain-to-brain interface, with one researcher's thoughts controlling another's hand motion over the Internet.
Key elements of the experiment were an electrode cap on the head of Professor Rajesh Rao, hooked up to an electroencephalograph, and a transcranial magnetic stimulation coil over the left motor cortex of researcher Andrea Stocco.
Rao looked at a computer screen and played a simple video game with his mind, with the electroencephalograph moving a cursor on the screen via custom analysis algorithms.
When he was supposed to fire at a target, without actually moving his hand, he imagined moving his right hand, causing a cursor to hit the virtual 'fire button'.
On the other side of the campus, Stocco's right index finger involuntary moved to push the space bar on the keyboard in front of him, causing the game's gun to fire. Stocco wore noise-cancelling earbuds and wasn't looking at a computer screen, and compared the feeling of his hand moving to that of a nervous tic.
"It was both exciting and eerie to watch an imagined action from my brain get translated into actual action by another brain," said Rao. "The next step is having a more equitable two-way conversation directly between the two brains."
Rao said this technology only reads certain kinds of simple brain signals. The pair plan to conduct an experiment that would transmit more complex information from one brain to the other. If that works, they then will conduct the experiment on a larger pool of subjects.
The researchers credit earlier work: brain-to-brain communication between two rats at Duke University and communication between a human and a rat at Harvard, and believe theirs is the first demonstration of human-to-human brain interfacing.
Rao has been working on brain-computer interfacing for more than 10 years and just published a book on the subject.
The brain communication project has a website which includes photos and video.