Lithium ion cell beats supercapacitors for power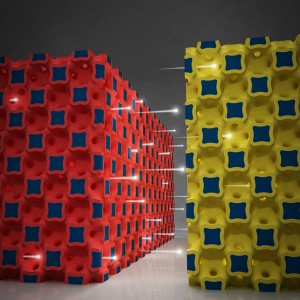 Researchers at University of Illinois at Urbana-Champaign have developed a self-assembling electrode structure that allows Li-ion to produce as much, or more, power than the best supercapacitors, claims the team, stating a specific output of 7.4mW/ cm2/ μm "2,000 times higher than that of other microbatteries" it told Nature in a paper (High-power lithium ion microbatteries from interdigitated three-dimensional bicontinuous nanoporous electrodes)
Key to the high output, and a correspondingly high charge rate, are electrodes with engineered pores.
Rather than relying on a random process, the pores start life as 1.8µm diameter solid spheres which self-stack from a colloidal solution.
A metal, nickel for example, is plated into the mesh-like voids around the spheres and the spheres dissolved or melted away. The remaining metal mesh is then etched to turn it into an open skeleton (blue in the artist's impression) into which electrode materials (red and yellow) can be coated.
In the real Illinois cell, alternate lines of the material are deposited on a flat sheet ('interdigitated'), which is why the power metric above is not in cm3, and bathed in electrolyte.
More on the construction is available in an earlier Nature paper (Three-dimensional bicontinuous ultrafast-charge and -discharge bulk battery electrodes), in which charge and discharge rates of 400C (Li-ion, 90% charge in 2min) and 1,000C (NiMH) were described.