Magnet model offers hope in avoiding rare earths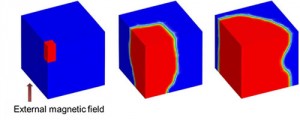 Fujitsu has developed a supercomputer algorithm that simulates magnetisation reversal in permanent magnets, claiming it to be a first.
"This opens up new possibilities in the manufacture of electric motors, generators and other devices without relying on heavy rare earth elements," said the firm.
The rare earth metals neodymium, samarium and dysprosium are ingredients in the super-magnets used in everything from headphones to electric vehicle motors, and they are running out, or not being allowed out of China where the major mines are.
However, it has been proposed for some time that similar super-magnetic properties could be achieved with more common materials if suitable molecular and crystalline structures could be designed – nano-structured manganese-aluminium is one possibility, iron nitride is another.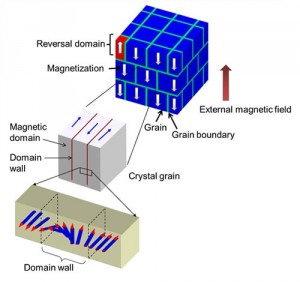 To model macroscopic materials at the microscopic level requires a giant amount of computing power, which Fujitsu has to hand as it built 'K computer', ranked as the most powerful computer in the world in 2011, and has since boosted to 812Tflop.
"Fujitsu developed a magnetic simulation technology that combines a finite-element method with micromagnetics," said the firm. "This technology makes it possible to compute magnetisation processes of magnetic materials with complex microstructures on a nanometer scale by executing enormous computations on a supercomputer using a massively parallel computing technique."
By micromagnetics, Fujitsu means dividing magnets into regions the size of a few atoms.
Its computation allows magnetic domains to be studied as they alter to reduce magnetic energies in the interior of a material.
In the case pictured (lower diagram), the polycrystalline rare-earth magnet is divided into 1nm elements. "In so doing, it is possible to calculate the behavior of domain walls [top diagram]," said Fujitsu. "This simulation can also analyze the movement of domain walls and the propagation of magnetisation reversals, which is difficult to perform with other simulation technologies."
Results are being presented today at the Annual Conference on Magnetics at Hokkaido University.
The project is supported by the Japanese government. Its next step is to develop a multi-scale magnetic simulator that can bring micromagnetics together with material design based on quantum mechanical electronic structure calculations.