EU graphene researchers meet in Sweden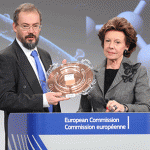 Graphene researchers from all over Europe meet this week in Gothenburg, Sweden.
Graphene research is very active in Europe and the EU-funded Graphene Flagship conference will host 74 research partners from 17 European countries.
Researchers, which includes teams at Manchester and Cambridge in the UK, are working to  take graphene and related ultra-thin layered materials from academic laboratories to commercial products.
The researchers believe the new semiconductor material technology can potentially "revolutionise multiple industries and create economic growth and new jobs in Europe".
The event takes place at Chalmers University of Technology in Gothenburg, Sweden on October 10-11.
Graphene Flagship is an FET Flagship initiative by the European Commission.