Oxford sells plasma etcher for quantum computing work in China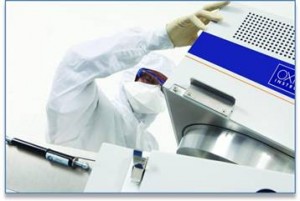 Oxford Instruments has sold another PlasmaPro 100 plasma etch system to the Center for Micro and Nanoscale Research and Fabrication at the University of Science and Technology of China (USTC).
Anhui-based USTC is an important customer for Oxford's etch and deposition systems.
The plasma etch and deposition systems are used for fundamental research and development, and USTC will use them in the field of quantum computing.
According to Prof Zhu, from USTC: "These tools will allow our researchers to push the limits in micro- and nanoscale fundamental research. USTC has a very strong background in both nanoscale science and engineering, and this new state-of-the-art nanofabrication facility aims to drive collaborative, interdisciplinary, and fundamental research in the micro- and nano-scale."
Quantum Information Processing will be one of the leading topics at Oxford Instruments' Nanotechnology Tools 2 day workshop in Beijing from 24-25th September.

Tags:
China
,
Oxford
Related Tech News
Share your knowledge - Leave a comment