The future of batteries: Mg-ion and Li-air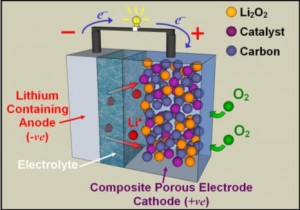 Researchers are looking beyond lithium ion to take batteries into the future.
Two of the most promising are magnesium ion and lithium-air.
To find out how research into these two is going, Electronics Weekly asked Professor Peter Bruce of the University of St Andrews' school of chemistry, renowned for its work on battery science.
Li-ion has proved to be a great battery technology, powering just about every phone, laptop and electric car made today.
However, lithium is not a common metal, making it so expensive that the price of an electric car battery often has to be subsidised.
And, although it is improving by a few per cent a year, Li-ion capacity is not increasing fast enough for some – particularly the electric vehicle people.
Silicon anodes by companies including Panasonic, Amprius and the UK's Nexeon promise comparatively large increases in Li-ion capacity. Is there a limit?
"Silicon instead of graphite anodes will step things up," said Bruce. However, with any spin on lithium ion chemistry, "the best you can do is probably double capacity."
Magnesium ion is being proposed as an alternative to lithium ion because magnesium is more abundant and cheaper than lithium.
"It's a potentially attractive new-kid-on-the-block. Magnesium works in a similar way to Li-ion, it is fairly abundant, reasonably low cost, and easier to handle," said Bruce. But, "it comes with quite a lot of challenges." For example: "Lithium is difficult to plate and strip with high efficiency; magnesium is even more difficult to plate and strip."
If it can be made into cells, there is a chance that magnesium could also help increase capacity: "You get two electrons for every ion so, in principle, you might be able to store more charge", said Bruce.
For various reasons, the negative electrode in a Li-ion cell cannot be metallic lithium and is instead some form of carbon – often graphite – into which lithium ions can intercalate – insert themselves. This carbon adds unproductive weight and bulk to a cell.
Although there is as yet no proof an intercalation medium is not required, interest is piqued amongst researchers because there is also no proof that one is required, leaving the possibility that the negative electrode could be metallic, and therefore compact.
"It is a bit too early to say if magnesium metal will work, it is possible an intercalation component will be required," said Bruce. If it is needed, graphite is not suitable, so finding a practical one will be another hurdle to jump.
The search for a safe low-cost electrolyte is also on.
"An electrolyte has been done, which shows it can be done," said Bruce. "But you can envisage better options. There is a less exotic electrolyte, but it still needs more work, and it still isn't cheap."
And then there is the on-going search for a suitable positive electrode…
"Magnesium ion is an interesting area. There are lots of challenges, significant challenges, but no show stoppers discovered yet," said Bruce.
While magnesium ion could cut cost, lithium air could produce the big step in capacity to follow lithium ion.
Lithium air cells are somewhat like Li-ion cells, except for a different process at the positive electrode which allows much of the active material to be replaced by oxygen from the air with "charge storage approaching ten times that of today's LiCoO[sub2] based cells", said the university.
The positive electrode is porous as well as conductive, with lithium ions from the electrolyte in its pores.
On discharge, oxygen enters the pores and, with the ions and a catalyst, fills them with solid lithium oxides. During charging, the lithium oxides break up again and release oxygen back to the atmosphere.
"Lithium air is a very hot topic. It's almost like a battery/fuel cell hybrid. It's close to optimal that can be achieved in a battery," said Bruce.
However, the technology is nowhere near ready to make practical batteries.
Questions are many, frequently rooted in basic chemistry, and include:
How can lithium oxide formation and decomposition be made reversible cycle after cycle?
Can a stable electrolyte be found or designed?
It there an electrode material will provide long-term support without reacting with the other materials?
"Lithium-air is one of our major topics right now at St Andrews," said Bruce. "Mastering the positive electrode is what we are about."
Nothing has yet appeared to suggest Li-air cells are impossible, said Bruce: "I have been enthused by the rate of progress we have made in understanding the positive electrode."
As well as lithium air and some work on magnesium-ion, Bruce's team at St Andrews is also researching Li-ion and sodium ion, and keeping an eye on lithium-sulphur.
"Sodium-ion is like lithium ion, but sodium is a lot more abundant," said Bruce. "Lithium sulphur is like lithium air, but with sulphur."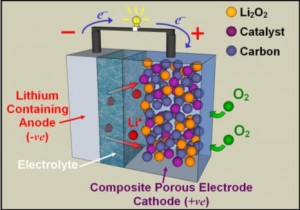 The University of St Andrews is investigating replacement of the positive electrode of a Li-ion cell with an oxygen electrode in which positive lithium ions from the electrolyte combine with oxygen from the air within a porous carbon. "We have demonstrated that the O2 reduction is reversible: this is a rechargeable system," said the University.
1 Comment