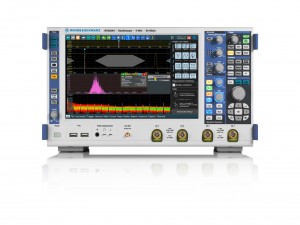 Using the scope's analogue input channels, it is possible to simultaneously observe the signal in the time and frequency domain, and if desired, the spectrogram.
New functions include peak list, max. hold detectors and a logarithmic display.
A new zone trigger enables the graphical separation of events in the time and frequency domain. Users can define up to eight zones of any shape. A trigger signal is activated when a signal either intersects or does not intersect the zone.
This is useful for detecting disturbances in the spectrum during EMI debugging or to separate read/write cycles of storage media in the time domain.
Its scan rate is one million waveforms per second and memory is up to 2Gsamples.
For the display a high definition mode increases the vertical resolution to up to 16 bits. This mode activates configurable low-pass filtering of the signal after the A/D converter.
Users can trigger on all, even the smallest, signal details.
The RTO2000 is available as a two or four channel model with a bandwidth of 600MHz, 1GHz, 2GHz, 3GHz or 4GHz.