However what if the same technology could be baked right into the glass of a smartphone display, or the face of a smartwatch?
This is what Sunpartner Technologies, a France-based technology company focused on the development of high transparency photovoltaic surfaces, aim to achieve with their range of new WYSIPS (what you see is photovoltaic surface) products.
Introducing WYSIPS Crystal, a specific adaptation of the technology for use with emissive displays, amorphous silicon photovoltaic cells are incorporated into the window offering an ultra-thin (< 0.58mm) and semi-transparent surface that can absorb light from both the sun and also the screen below.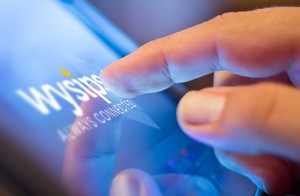 To achieve a semi-transparent surface whilst maximising photovoltaic performance, Sunpartner uses lenticular imaging, a technique commonly encountered in some modern 3D displays, which enables the viewer to see different images depending on their viewing angle.
By exploiting this optical effect, the firm was able to hide the photovoltaic cells from view at most angles, offering up to 85% transmission through the surface.
Although an impressive feat of optical engineering, it is worth stressing that the WYSIPS Crystal will not provide a seemingly limitless supply of charge to your smartphone. The technique is able to provide a peak power output of 4mW per square centimetre, which whilst impressive given the implementation of the photovoltaic technology, would certainly fall short if required to fully charge a smartphone in a reasonable time.
Nevertheless, speaking with Thierry Goddard, Sunpartner's vice-president of sales at last month's Mobile World Congress, he suggested that the technology should be viewed more as an additional power supplement, rather than a means to fully charge the device, offering up to "50% more talk time" when used within the display of a smartphone.
The additional power offered by the WYSIPS technology, he said, could be used to ensure important low power features, such as a panic or 'SOS' button, or emergency calling functionality, are still reachable even when the phones battery is fully depleted.
Not only content with offering high transparency, Sunpartner also has a product which completely trades off the transmissive nature of the surface for better photovoltaic performance, producing a peak power output of 10 mW per square centimetre.
Called offer WYSIPS Graphics, it also makes use of lenticular imaging to disguise the cells, whilst displaying a custom designed image or pattern. On their decision to disguise the cells even in this opaque application, Goddard believes customers "do not like the look of conventional solar panels" and they are "happy to accept reduced photovoltaic performance" at the expense of a disguised panel.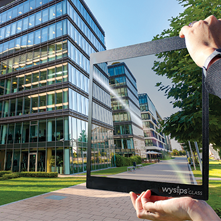 A number of products utilising WYSIPS Graphics, including the ingeniously designed 'Sunny Bag' and various e-reader and smartphone covers, were on display at MWC in Barcelona and it has to be admitted that they provide a refreshing take on solar fuelled smart devices with their attractive patterned and textured surfaces.
So, what next for Sunpartner? They have recently announced a partnership with Kyocera of Japan, and the two companies' showed a prototype Kyocera smartphone has a 5-inch LCD display, which features the non-invasive WYSIPS Crystal surface. It is packaged in a rugged casing, making it both water and drop proof, ideal features for those who work in an active environment out of doors.
More recently, Sunpartner have also announced a partnership with London-based smartwatch manufacturer Vector, who made the headlines last year with a smartwatch that boasts 30 days of battery life. Their challenge in 2016, to double this battery life using WYSIPS technology to 60 days, an impressive goal and one certain to turn heads in the already crowded wearables market.
There was no word on the prospective release date of either of these devices, however 2016 looks sure to be an interesting year for novel photovoltaic applications thanks to Sunpartner.