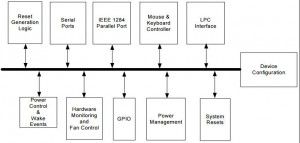 Called SCH322x, each product in the family contains a different feature set, combining serial ports, parallel port, and PS/2 with GPIO, temperature monitoring and voltage monitoring.
The chips are available in both commercial and industrial operating temperature versions, in a range of BGA packages: 64-WFBGA (6x6mm), 84-WFBGA (7x7mm), 100-WFBGA (8x8mm), and 144-WFBGA (9×9 mm).
"Designed to operate with the x86 architecture, the family includes six devices tailored for different applications. A varying number of serial ports, combined with hardware monitoring, and with and without keyboard controller functionality are some examples of the choices available with this family of devices," said the firm.
The six products are: SCH3221, 22, 23, 24, 26 and 27.