Tech news tagged 'Mixed Signal'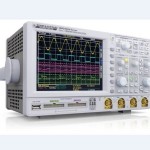 Hameg Instruments is offering a mixed-signal oscilloscope range with up to 500MHz bandwidth.
Launched earlier this year, the HMO3000 series includes six model variants in a bandwidth of 300MHz to 500MHz with 2 or 4 channels.
As well as the analogue channels there are 16 digital channels.
The scopes…
Read More