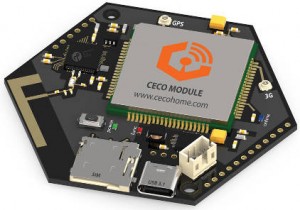 Aimed at companies and makers developing smart home equipment and apps, it has wireless interfaces for Thread (including on-board antenna), 3G and GPS.
Software libraries are included to save programming effort, including MQTT protocol support for integration with IBM Bluemix IoT cloud platform, or other MQTT platforms.
Picture Gallery: Wearable Technology Show 2016 »
"It's not like Arduino. You don't need to know how to programme microcontrollers, because the module is supplied with built-in software to support features in a smart home, said CEO Denis Sokol. "You just build your own hardware solution and use software where we have already provided for most of the features you would like to see."
The micro SIM card slot and 3G radio allows it to connect to any 3G operator around the world, claims the firm, and it also has a USB3.1 connector for wired communication.
Read more Internet of Things news stories on Electronics Weekly »