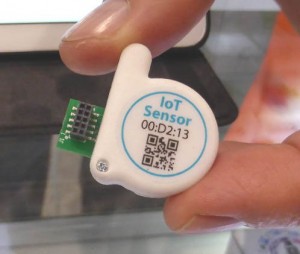 The hardware is a small Bluetooth-enabled wire-free sensor dongle in a plastic housing (see photo right).
On this is Dialog's DA14583 Bluetooth/ARM Cortex-M0 SoC, plus gyroscope (x3), accelerometer (x3), magnetometer (x3), and environmental sensors from Bosch Sensortec.
Picture Gallery: Wearable Technology Show 2016 »
The board inside is 16 x 15mm, and typically consumes 1.3mA when streaming sensor data, <110µA in advertising mode, and <11µA in power-save.
It can stream raw sensor data as well as output the absolute real world orientation of a device in quaternion form.
As well as a hardware demonstrator, the kit has been created to show Dialog's sensor fusion software, which runs on the Cortex-M0, Dialog business development manager Gerry Conlon told Electronics Weekly.
The software development kit (SDK) includes Dialog's SmartFusion library for data acquisition, auto-calibration, and sensor data fusion for the DA14583.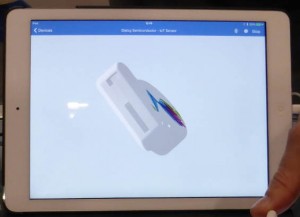 "SmartFusion has no dependencies on external run-time libraries and has been optimised for resource constrained systems," said the firm.
It includes options for both static and auto-calibration, and on-the-fly selection of sensor input for data.
Various sensor types and sample rates are supported, and the development kit also includes iOS and Android apps for data visualisation on tablets or phones.
As well as 12 DOF, the kit can also be used for 9 DOF application development.
Also on the DA14583 is 1Mbit of flash for storing Bluetooth profiles and custom application code. Bluetooth LE 4.1 is implemented.
Bosch sensors in the kit are:
BMI160 6-axis inertial measurement unit
BMM150 3-axis geomagnetic field sensor
BME280 integrated environmental unit (pressure, temperature and humidity)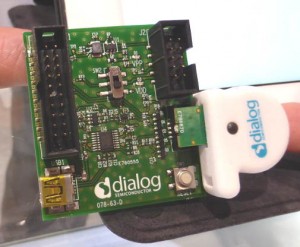 Neatly constructed, the kit has a nice demonstration mode, where the orientation of the dongle is displayed correctly as an animated illustration in real-time on a tablet (see screen photo above), there is also an interface board (right).
Why the odd shape, I feld the need to ask? Because is reads as a Dialog 'd' when held the right way around.
The next place to see the kit is at Bluetooth World in Santa Clara, March 15-16.