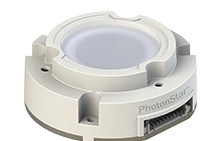 What is called "a secure commissioning" patent, it will be used in the firm's Halcyon and halcyonPRO2 wireless networks for internet of things (IoT) lighting and sensor applications.
According to Romsey-based PhotonStar, the commissioning protocol allows multiple techniques to securely join wireless devices of different types to a network without the need to be in physical contact or in proximity of the device, while not compromising the network security keys.
The protocol can be used to commission and set up devices at any time, even following installation, without the need for special commissioning time windows.
"This lends itself to commercial installation practices where phased installation and commissioning may take place," said the firm.
Dr Majd Zoorob, CTO of PhotonStar, commented on the IoT security aspect:
"Our halcyon and halcyonPRO intelligent wireless lighting systems have the potential to play a significant role as secure, scalable platforms for real world commercial IoT applications.

"Security is an important requirement in IoT applications, and we are excited to announce this major development in our wireless network technology."
PhotonStar is to install the Halcyon wireless lighting control and energy monitoring system in a Royal Bank of Scotland (RBS) building in Bristol as a part of the bank's Go Green initiative to provide SMEs with the opportunity to trial energy-efficiency technology.