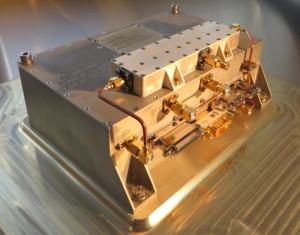 The Lander, a test bed for future space missions, has VPT SV series isolated power supplies and filters. VPT dc-dc PSUs were also supplied for the lander's UHF transceiver and will be fitted to the 2018 mission Rover.
"It was critical that both power supplies and filters met Class K, the top level of screening and test for hybrids, frequently used for space missions to ensure the highest level of reliability," said APC. "Class K typically requires parts to be burned-in for up to 160 hours, exposed to shock and vibration, and inspections.
Under the Defence Logistics Agency approved radiation plan, MIL PRF 38534 Appendix G, characterisation and testing is performed at the critical semiconductor component level (radiation lot acceptance testing) from traceable semiconductor lots.
"This marks a fresh alternative from traditional suppliers where radiation testing has to be carried out after assembly," said APC.
ExoMars is a collaboration between the European and Russian Space Agencies. Launched earlier this month from Kazakhstan, it has a seven-month mission to monitor temperatures and trace gases on Mars – particularly methane which can be created by life.
The orbiter measures 3.5 x 2 x 2m and has a 2kW solar array 17m across. Launch mass for the Proton-M/Breeze-M launch vehicle is 4.3 tonnes including fuel and 600kg Schiaparelli  – the latter being a fact-finding lander, included to find ways to increase the chances of the rover getting down safely in the next mission.