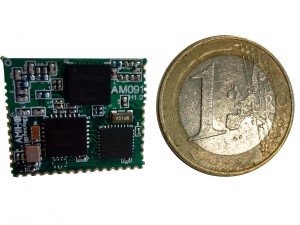 The module is designed to support long-range links with its power output rated up to +28.5dBm.
The AM091 module size is 17.8 x 20.3mm and it comes pre-loaded with the Cambridge-based firm's software stack and drivers and is designed to be ready for production.
Mobile World Congress: Your Electronics Weekly guide »
According to David Blumstein, managing director of Amiho Technology, for smart metering applications the addition of the LoRa radio interface "extends the radio range dramatically".
LoRa is intended to be a low power low data rate radio interface for IoT device applications such as smart meters. It uses spread-spectrum modulation techniques and supports data rates 300bit/s to 50kbit/s.
It has security and provides data links from millions of end-nodes to gateways over up to 10 miles range with a battery life of up to 10 years at the node.
The AM091 module is being demonstrated at Mobile World Congress in Barcelona this week at the Lora Alliance stand Hall 8 stand A10MR.
See also: First LoRa IoT transceiver cleared by Alliance
See also: ST joins LoRa IoT Alliance