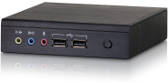 Via Technologies has announced a 12×12.5x3cm ARM Cortex-A8-based machine, writes Steve Bush. 
ARMTiGO A800 is "the world's smallest ARM system for embedded applications, including hotel automation, digital signage and, surveillance as well as for medical and healthcare applications", claimed the firm.
Inside is an 800MHz Freescale Cortex-A8 chip with two integrated graphics processors (GPUs).
Average power consumption of the fan-less computer is said to be 3.14W, and the case size allows it to fit behind a monitor or onto a way using a 7.5×7.5cm VESA mount.
"VIA is leveraging its SFF [small form-factor] system design expertise demonstrated in its x86 ARTiGO systems to create a family of smaller, lower power ARM based systems," said Via head of embedded computers Epan Wu. "The introduction of the ARM-based A800 allows us to provide a range of solutions in both leading processor architectures."
Two GPUs allow two displays to be supported and 3D/2D graphics acceleration can deliver HD at up to 1080p.
On-board storage includes 4GB of eMMC flash which can be expanded through a microSD card connector.
Board support packages (BSPs) are available for Linux 2.6 and Android 2.3 operating system images.