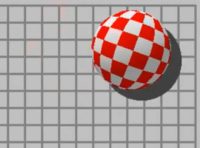 Here's another interesting one to flag from Gadget Master, involving open source hardware – Gameduino spritely takes centre stage
It is an Arduino-based development offering support for 8-bit video gaming via the Gameduino, which is based on a Xilinx FPGA. It is a properly designed, tested, and documented project created by one James Bowman, and it is made available as open-source hardware (BSD license).
James provides full details of how to make a Gameduino board – see Gameduino: a game adapter for microcontrollers. He writes:
Gameduino is a game adapter for Arduino – or anything else with an SPI interface – built as a single shield that stacks up on top of the Arduino and has plugs for a VGA monitor and stereo speakers. The sound and graphics are definitely old-school, but thanks to the latest FPGA technology, the sprite capabilities are a step above those in machines from the past.

The adapter is controlled via SPI read/write operations, and looks to the CPU like a 32Kbyte RAM. (Unlike many 8-bit machines, there are no restrictions on when you can access this RAM). There is a handy reference poster showing how the whole system works, and a set of sample programs and library.