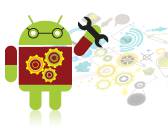 For small firms, ARM has released Development Studio 5 Community Edition, a free version of its reference software development toolkit, writes our technology editor Steve Bush.
Known as DS-5 CE. "the new edition is dedicated to the Android application developer community and helps them create native software for compute intensive tasks that can run up to 4 times faster than Java code," claimed the firm. "DS-5 CE includes limited, but essential functionality from the premium DS-5 toolkit to help solve common Android application developer pain points."
Included is an integrated graphical debugger for NDK-generated code and visibility of processor information including NEON single instruction multiple data (SIMD) registers.
It permits development of Java and C/C++ code in the Eclipse development environment, and there is a tailored version of the Streamline performance analyser for compatible Android development platforms.
"Streamline captures detailed, system-wide performance statistics from a variety of sources which helps developers to locate hotspots in their code and isolate potential causes," said ARM. "Platform builders can add support for Streamline by integrating an open source driver available from the Linaro website."
"We have worked with ARM to ensure that DS-5 support is available as an easy to install add-on for Linaro Ubuntu images in the past and are working together to deliver a similar developer experience for DS-5 CE as part of our Android images", said Alexander Sack, platform technical director, Linaro.
DS-5 CE is available free-of-charge for use by individuals and organisations with annual revenue of $100,000 or less, and up to 10 employees.
Steve Bush