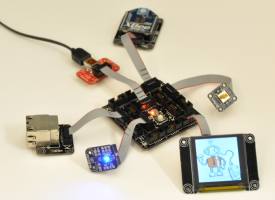 We can file this one – at a push – under open source engineering, even if – given this involves Microsoft – no Linux is involved.
The Redmond giant has has announced the official launch of Gadgeteer, a set of electronic parts designed to be plugged together to build prototypes or working electronic devices. Remote controlled cars and cameras are given as possible examples.
It is aimed squarely at "hobbyists, electronic enthusiasts and educators" and Microsoft says it does not require any specialist electronics knowledge or soldering. The idea is to make it simple for anyone to quickly design and build their own devices.
The platform is built on the .NET Micro Framework and the small devices can be programmed in the C# language.
Note that the Microsoft .NET Gadgeteer Core Libraries are available under the Apache 2.0 open source license and the source code can be found on the http://gadgeteer.codeplex.com website.
".NET Gadgeteer is a powerful platform that lets you build sophisticated devices really quickly – even if you don't have much experience," said Steve Hodges, principal hardware engineer, Microsoft Research Cambridge.
"It started out as an internal tool at Microsoft Research Cambridge, but its appeal to people outside the lab quickly became evident. The open source release will make this powerful technology available to others, including the hobbyists, teachers, researchers and developers who have given us such positive feedback to date."
GHI Electronics LLC – an embedded systems provider – is the first company to come to market with a .NET Gadgeteer-compatible module: the FEZ Spider mainboard and starter kit (pictured above, which combines this with modules such as a digital camera, a touch screen, Ethernet and SD card sockets, push buttons, and LEDs). This is priced at $249.95.
In detail, the FEZ Spider kit includes:
Microsoft says other companies that plan to provide additional mainboards and modules for the .NET Gadgeteer platform in the near future include Seeed Technology, DFRobot and Sytech Designs…