Board offered as programmable I/O for Pi, with touch control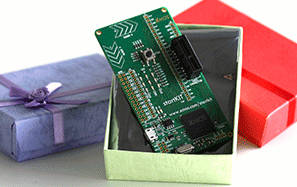 The popularity of Raspberry Pi has raised interest in the most professional of circles.
XMOS is a West Country-based fables chip firm that makes multi-core microcontrollers with a lot of processing power. Sony just released a headphone amplifier with one inside, the PHA-2.
Unusually for microcontrollers, there are few fixed peripherals. Instead, its internal 'xCores', which are fast 32bit RISC cores, can be configured to act as peripherals – and the firm provides code to turn them into various common interfaces.
Anyway, it just released a development board called startKIT, which is not only cheap at $14.99 (should you need a 500MIPS processing engine, or programmable I/O), but comes with header connections "that allow it to interface to Raspberry Pi products, making it an ideal real-time I/O solution for Raspberry Pi projects," claims XMOS.
The 94x50mm board is based around the XS1-A8-64-DEV, a MPU with eight 32bit logical processing cores. ('Logical cores', because the eight cores share an ALU amongst other things. Ed).
It has an array of LEDs, a push-button switch, two capacitive sense sliders, and a sliceCARD connector that is compatible with I/O slices available from XMOS.
Example code includes a software-defined Ethernet interface and web server application, and basic driver software for the LEDs and push-button.
Some of the stuff XMOS says about startKIT:
"Allows engineers to evaluate xCORE multicore microcontrollers, that can be software-configured with a wide variety of peripherals and interface blocks.
"Free-to-use xTIMEcomposer design tools allow developers to programme the right interface configuration, and write application code using C / C++, all in a single programming environment. It provides a graphical development environment, including compiler, debugger, a static timing analyser and a software-based logic analysis tool.