Rugged case has prototyping area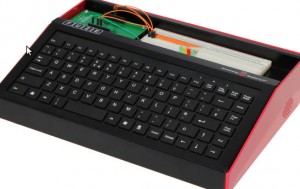 Buckingham-based Fuze has come up with a rugged case for Raspberry Pi that includes a UK keyboard.
All connectins are bought out to the back panel – with internal extension cables for USB, HDMI, audio and network ports.
GPIO is extended and protected, and there is an 840 socket solder-less breadboard for electronic projects.
"The case can  extend the life of your Pi as you no longer have to worry about static, damaging the board due to incorrect pin connections, spillage, physical impact and socket stress from the constant connection and disconnection cables.
Also included is a mains PSU.
Trusted Reviews has a review of the Fuze Raspberry Pi case
http://www.trustedreviews.com/fuze_Desktop-PC_review