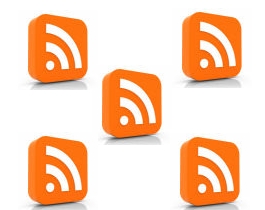 Latest feeds from Electronics Weekly
Blog feeds
What is RSS?
Really Simple Syndication (RSS) is an XML-based format used to enable the simple distribution of online content. ElectronicsWeekly.com offers its users the chance to access the very latest stories using this format in conjunction with a downloaded RSS reader, via a web based RSS program or internet browsers such as Mozilla Firefox and Internet Explorer 7.
By using an RSS reader you can access the very latest headlines from hundreds of websites across the world and now ElectronicsWeekly.com has chosen three categories for you to access in this way. This completely free service gives a user the chance to look over headlines and summaries of all the latest ElectronicsWeekly.com stories and then gives you the chance to click into the story to be taken to the full version. 
How do I use RSS?
To use a ElectronicsWeekly.com RSS feed you simply need to download and install a RSS reader (view a list of RSS Readers).
Once a reader is downloaded all you need to do is simply click on one of the feeds above that takes your interest and follow the instructions on your RSS reader to access the headlines.
Terms and conditions of use
Before taking a RSS feed from ElectronicsWeekly.com please read the terms & conditions by clicking here
Users of the Electronics Weekly RSS service are reminded that all stories remain the property of Metropolis Business Media.
If you wish to use a single story please ensure our content is attributed to Electronics Weekly and users are asked to display only the headline, first paragraph of the story and the relevant link back to ElectronicsWeekly.com.