The manual CDN 3083-B100 is intended for use in the power and telecom industries.
"This CDN can easily carry out applications that require higher AC and DC voltages as well as high in-rush or pulse-shaped peak currents like those found in renewable energy," said the firm.
"It takes into consideration the requirements of the latest IEC 61000-4-4 edition 3 standard, including the various test setups, the need for minimum distance between coupling devices and EUTs, and the need to mount coupling decoupling sections directly to the reference ground plane."
Foreseen applications include smart grid, inverters, solar, energy monitoring as well as applications for electric vehicles and charging stations.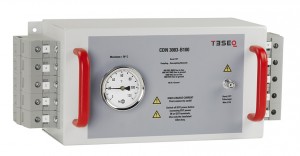 It can couple up to 8.8kV (5/50ns – 50Ω) EFT pulses simultaneously into the supply lines of the equipment under test (EUT), and can be used with an EUT supply up to 690Vac, either line-to-line or line-to-protective earth, or up to 1,000Vdc line-to-line or line-to-protective earth.
"The CDN is compatible with all brands of burst generators and is extremely portable so it is convenient for field testing and allows for more set-up options in standard compliance applications because it is external to the generator," claimed Teseq. The unit weighs 5kg and is 410x190x170mm high.
Over 100A can be used for short durations, with built-in temperature monitoring preventing internal damage and overload.
Screw terminals rated for 200A, and the SHV burst input connector has a maximum burst voltage of 8.8kV, and earth terminal grounding.
There is also a 200A version, the CDN 3083-B200.