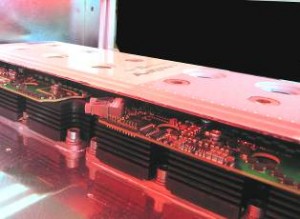 High-power IGBT drivers from Cambridge-based Amantys are at the heart of a Portuguese railway systems trial which adds diagnostics to rail traction converters.
Amantys' intellectual property is in sensing switching parameters under high-noise conditions, and also in driver electronics.
"At the lowest level, it is all about how to take accurate measurements on large power transistors and then export those measurements over the isolation barrier – in this case fibre optics," Bryn Parry v-p corporate development, Amantys told Electronics Weekly. "Part of the challenge is the quality of information that can be exported. On top of electrical noise is operation noise: the driver is accelerating and decelerating the train. Another challenge is how to multiplex data input and output together with PWM switching signal and acknowledge signal."
Amantys is working with Portuguese railway maintenance firm EMEF.
EMEF operates a condition-based maintenance strategy, using sensors on the train to accumulate data that can be used to predict the health of its components.
"The technology developed by EMEF gives train operators a much stronger range of options for revitalising their locomotive fleet," said EMEF's head of systems Miguel Areias. "By deploying a needs-based maintenance plan, we can free operators from schedule-based maintenance plans recommended by locomotive manufacturers, and increase track-time availability of the locomotive by up to 15%."
"For example, they monitor the open and closing times of doors. If the door is showing slow opening times, they can make a decision to fix it," said Parry. "They wanted to extend this onto the traction converter."
However, the power converter has no suitable sensors.
This is not the only reason for a re-fit. The converters are based on gate turn-off thyristors (GTOs), and have drive boards that are increasingly expensive to replace or repair.
"Train operations have not got a lot of money for new rolling stock and GTOs are getting harder to source. Also, not many people are making the drivers and getting them repaired is expensive. It's a lot of money. I'm not allowed to say how much," said Parry.
Because of this, EMEF is developing a form, fit and function replacement converter based on modern IGBTs.
It will bolt into the same space, match up with existing bus bars, and accept legacy signals from the driver's controls.
Although not the point of the exercise: "there is an efficiency saving by moving to new technology. 10% is figure we have been told," said Parry.
In the original system, PWM switching signals are sent to the drivers in the GTO stack through one optical fibre per GTO, and each GTO driver sends back an 'I've switched' acknowledge signal based on the GTO's voltage waveform.
"EMEF takes the same PWM source and translates GTO language into IGBT language," said Parry. "What we have done is put more intelligence onto the driver board. We can send configuration information into the driver and get data back from the driver."
New control and configuration data is sent onto the driver board along with the PWM waveform, and measure parameters are send back along the acknowledgement fibre.
The modulation technique used to add data to the PWM signal has not been disclosed.
According to Parry, the train's existing systems don't see the additional data, which enters and leaves through new ports on the converter.
"In the first implementation, we can send samples of six fixed parameters from the switch from each switching cycle," he said. "In the next implementation, we will be able to select. For example, we will be able to log how many times the IGBT has been switched, or how many short circuits it has switched in to and of what type."
Vibration, shock and humidity could be added in the future.
For EMEF, even basic data is a great improvement. "A simple example, is that we have put a temperature sensor on the driver," added Parry.
As this data has not been collected before, some work has to done on its predictive powers.
"This is beta trial on one train. We will analyse data to develop analysis algorithms," said Parry.
The converter is a four-quadrant chopping three-phase inverter on the DC link.
Inside are 4,500V 1,200A IGBTs from Dynex Semiconductor in Lincolnshire, said Amantys.
Although it could switch faster than the GTO version, and be smaller, neither are taken advantage of in the interest of backward compatibility.
For other applications, Amantys driver boards have a mode which is "100% compatible with industry standard signals so at a later date someone can change the controller", said Parry.
Back at its office in Cambridge, Amantys is building in-house test facilities for IGBTs up to 3.6kA.
"We have invested in a high-energy test rig to switch the voltage and current over the full safe operating area," said Parry. "It is probably the safest office in Cambridge, as we have trained everyone as a first aider."
The two companies will demonstrate their system on stand 124, Hall 9 at PCIM 2013 in Nuremberg, Germany on May 14th-16th.