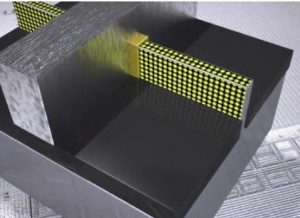 Altera has been using Intel as a chip foundry for the last 12 months.
The 14nm-based FPGA test chips incorporated IP blocks – transceivers, mixed-signal IP and digital logic – which will be used in Stratix 10 FPGAs.
"This is a significant milestone," said Brad Howe, senior vice president of research and development at Altera. "Testing vital elements of our FPGAs in 14nm Tri-Gate silicon allows us to validate device performance early in the design process and significantly accelerate the availability of our 14nm-based products."
Sunit Rikhi, general manager, Intel Custom Foundry, described it as "a defining moment in our partnership".
For the same power, Stratix 10 will deliver 1.4-1.6x performance compared with existing Stratix V parts, and double the performance is available for 1.3x power.
"You can port an existing design. To get the full 2x performance, you will have to do some re-designing for the new architecture," said Altera v-p of corporate strategy Danny Biran, who is not yet revealing details of the architecture changes.
The firm also claims the newer Stratix can offer the same performance for 0.3x of the power compared with Stratix V, but, said Biran: "if you just want to maintain performance as today, the mid-range Arria 10 will probably give you a better solution."
Stratix 10 will also come with 56Gbit/s transceivers, up to four million logic elements, and up to 10x the DSP performance – 10Tflop single precision – through improves MAC (multiply-accumulate) resources.
Altera is also using TSMC's 20nm process for its Arria 10 series FPGAs.