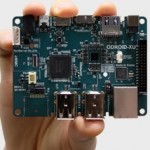 The $169 computer board is a higher performance competitor to the Raspberry Pi computer board which is aimed at educational markets as well as professional embedded designs.
ODROID-XU is based on the Samsung Exynos5 Octa Cortex-A15 1.6Ghz quad core and Cortex-A7 quad core CPUs. For graphics it has Imaginations Technologies' PowerVR SGX544MP3 GPU (OpenGL ES 2.0, OpenGL ES 1.1 and OpenCL 1.1 EP).
The developers can now access the OpenGL ES 2.0 and the OpenCL EP stack, which allows them to create new and compelling applications.
The full OpenCL EP stack and OpenGL ES 2.0 APIs allow developers to enhance visual effects in games, user interfaces or AR applications.
The basic package includes a XU board, a plastic case, an active cooler and 5V/4A PSU. You need additional MicroSD card or an eMMC module to install the OS.
The memory spec includes 2Gbyte LPDDR3 RAM PoP, and interface support is USB 3.0 Host x 1, USB 3.0 OTG x 1 and USB 2.0 Host x 4. There is also an HDMI 1.4a output Type-D connector.
The first shipment will be in September.
big.LITTLE Systems
Technology known as big.LITTLE from ARM is essentially a heterogeneous compute architecture that tightly combines two different but fully compatible CPU core types, a 'big' CPU tuned for maximum performance at good efficiency and a 'LITTLE' CPU tuned for good performance and maximum efficiency.
Together, they form a highly efficient CPU subsystem that is capable of market-leading peak performance at lower average power consumption than other high-end mobile CPUs. Software is key to enabling this combination of performance and efficiency.
The current generation of ARM big.LITTLE technology integrates a Cortex-A15 CPU cluster and a Cortex-A7 CPU cluster using a cache coherent interconnect (CCI-400) and generic interrupt controller (GIC-400).
The two processors are architecturally identical, implementing the ARMv7-A architecture. Thus, an application binary compiled for a given processor will execute in an architecturally consistent way on the other processor. The key difference is in the micro-architecture.