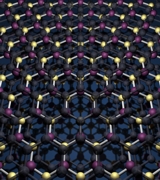 Specifically, the call will support the development of Graphene in commercial products such as flexible printed electronics, batteries that charge in minutes, super strength composite materials, novel coatings and the next generation of photovoltaic cells.
The call opens on 7th April, soon after the announcement in the 2014 Budget that £14 million is to be invested in a Graphene Applications Innovation Centre. The facility will allow UK SMEs working with Graphene to access high-tech equipment to develop commercial applications.
"We've heard a lot about the properties of graphene and it's found in a handful of commercial products but it's not yet been fully exploited," said Ivan Buckley, Graphene Project Manager at the National Graphene Institute in Manchester. "We've got the scientific lead, we've got state of the art facilities and now we've got the funding. The missing piece of the puzzle is for industry to work with our universities to turn top science into innovative products and processes."
The Graphene SIG says it can help with finding project partners with complementary skills and help with the development of proposals.
The funding call, Realising the Graphene revolution, opens on 7th April 2014.
The deadline for receipt of applications is noon on 4th June 2014.
"All the graphene-related scientific breakthroughs in the last ten years following the isolation of Graphene have pointed to the tremendous potential and the great opportunities for commercial applications of the material," said Nabil Zahlan, head of the Graphene Special Interest Group (SIG). "What is more, the science base for Graphene in the UK is unrivalled, providing a unique opportunity for industry to work with academics to translate research into revenue."
The market for Graphene is projected to grow to $100 million by 2018, according to IDTechEx. And apparently China currently leads the way in publishing patents involving Graphene.
See also: National Graphene Institute gets new Business Director
See also: Graphene manufacturer attracted to Manchester by university
Image: Graphene/Boron Nitride heterostructure – Dr Kostya Novoselov, source: The University of Manchester