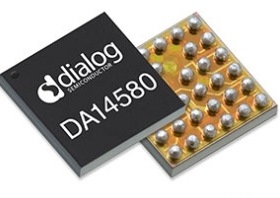 It is a small device which the supplier claims draws just 3.8mA for wireless transmission and reception.
The interesting aspect of the DA14580 Bluetooth transceiver is its availability in pre-certified modules designed through a partnership with Murata.
With a deep sleep current of under 600nA, the transceiver can be powered by a 225mAh coin-cell battery sending 20 bytes of data per second with a battery life of over four years.
It will also work off 0.9V enabling the use of just one alkaline or NiMH cell AA battery.
On-chip there is an ARM Cortex M0 processor and one-time programmable memory so firmware can be downloaded to the chip without use of external ROM.
The DA14580 is available in a wafer-level chip-scale package (WL-CSP) measuring 2.5×2.5×0.5mm.
www.dialog-semiconductor.com